The Honey Tomes team can help you write, edit, illustrate, layout, and print your wellness related manuscript or children's book. To find out if your project is a good fit for Honey Tomes, please send us a message outlining the major themes in the publication, and if relevant, the type of illustrations that you will need.
---
Bookaloo, I Love You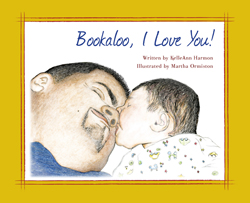 Written by KelleAnn Harmon
Produced by GP's Honey Tomes
This is a memorial keepsake for a young child who lost his father too soon. It is written by the fiance who now finds herself a single mom who wants her son to know how much his dad loved him. It is part of her grieving process and becoming whole again. It is hoped others going through the same experience can relate and find strength from it as well.
Currently unavailable for purchase.
Blank Slater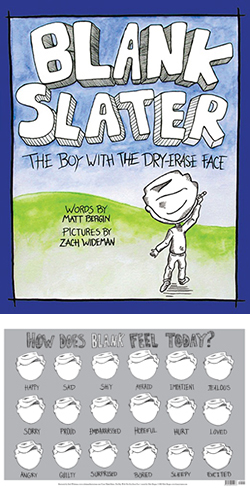 Written by Matt Bergin
Illustrated by Zach Wideman
The story of Blank Slater is a journey of emotional connectivity and creative expression written for young readers, early listeners, and the parents and teachers of both. This full-color picture book takes a simple approach to exploring common but complicated ideas like emotional confusion, the quest for tolerance and acceptance in a sometimes cruel world, and the importance of working through it all to persevere.
With built-in activity pages, readers can explore these themes further when the story is over. To download additional Blank Slater printable activity pages, click here. There is also a corresponding placemat available to buy that allows a child to draw and erase emotions on the blank faces using dry erase markers.
To purchase, please contact: Matt Bergin.
The book is also available for Amazon Kindle.
Peers, Cheers, and Volunteers
Written by Danielle M. Chéry
Illustrated by Jamie Forbes
Like Peers, Cheers, and Volunteers on Facebook!
Peers, Cheers, and Volunteers is a story of a boy's personal journey and challenges with self-expression and trust. It is intended for children ages 6 – 9.
To purchase, contact: Danielle M. Chéry.